News
Power Supplies: TDK developed chassis mount DC-DC Converters RDS-A Series, suit best for instruments related signal on railway system
2020-06-25 |
Return
> Mounting position, terminal block completely compatible with current products (RDS series)
>
High efficiency of 86% (RDS180A DC24V Input model)
>
Approved by UL/CSA/EN62368-1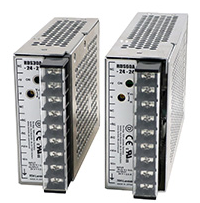 June 25, 2020
TDK Corporation
announces a new developed reliable DC-DC Converters, TDK-Lambda brand RDS-A(30/60/100/180W)Series. TDK-Lambda Corporation
will start mass production and shipment from July 2020(30/60W) and from October 2020 (100W/180W).
While current, chassis mounted DC-DC Converters RDS series will continue to be available, we have developed the RDS-A series, with improvement in characteristics.
The mounting hole position and terminal block shape will be compatible to the current RDS series. Easy product service/maintenance and long term used is possible.
The RDS-A series uses the latest materials and optimizes the circuit configuration to improve efficiency by up to 6% compared to the current product (180W product, 24VDC output).
Coatings on both sides of the component mounting board have been implemented to further improve reliability.
The railway is seen as energy-saving and low-carbon means of transportation globally.
With the release of this new RDS-A series, we can offer line up of new products to contribute the creation of a safe and environmentally friendly transportation infrastructures.
Major applications
>
Railway signal related equipment
>
Transport Automation System
>
Power plant control equipment
Main features and benefits
>
Attachment compatible with Current products
>
High efficiency: 6% improvement compared to current products
>
Designed to meet EN55011/ EN55032-B, FCC-B, VCCI-B
>
Safety standard UL/CSA/EN62368-1 approved
>
Coatings on both sides of the component mounting board
Major specifications: RDS-A series
Model

RDS30A-24

RDS30A-48

RDS60A-24

RDS60A-48

RDS100A-24

RDS180A-24

Input Voltage Range

18~32VDC

36~63VDC

18~32VDC

36~63VDC

18~32VDC

Efficiency (Typ.)(24V type)

83%

83%

84%

84%

85%

86%

Output Voltage

5 / 12 / 15 / 24VDC

Output Power

30W

60W

100W

180W

Operating Temperature

-20~+60℃(with Derating)

Safety

Approved by UL62368-1, CSA62368-1, EN62368-1

Subject to approval by UL62368-1, CSA62368-1, EN62368-1

EMI

Designed to meet EN55011 / EN55032-B, FCC-B, VCCI-B

Size(W × H × D)

38×95×130
mm

43×95×160
mm

60×95×220
mm

80×95×220
mm
Source:
http://www.global.tdk.com/